The John Cooper School is an independent, non-sectarian, coeducational, college preparatory day school in The Woodlands, Texas.
It was founded through the generosity of corporate and private benefactors, dedicated parents and other supporters in The Woodlands and the Houston metropolitan area. It was named in honor of Mr. John Cooper, the long-tenured Headmaster of Houston's Kinkaid School, whose expertise and counsel guided the school through its original formation and early years of operation.
The John Cooper School officially opened on September 6, 1988, on a 43-acre campus designated for this purpose by Mr. George Mitchell. Mr. Mitchell is the founder and original developer of The Woodlands, a planned community of over 100,000 residents located 40 miles north of Houston. The school began operations with an enrollment of 175 students in pre-kindergarten through seventh grade, and one additional grade level was added each successive year. The first senior class graduated in 1994. The opening enrollment of 1,294 students for 2021-22 represents the school's largest-ever student body.
The John Cooper School opened The Rock Math+Science Center in 2016, which spans three stories and includes 60,000 square feet of interior space. Included in the Center are three classrooms and laboratories for Middle School science, six for Upper School science, and seven for mathematics. The Center also houses a computer lab, robotics classroom, forum classroom, Finnie Family Rooftop Garden & Observatory, Bayless Chemistry Plaza, and 135-seat Ramirez Lecture Hall.
Due to these expansions, The John Cooper School needed to update its existing experiential graphics in order to establish a unified wayfinding and directional program that would facilitate and guide both vehicular and pedestrian traffic.
FMG Design was commissioned to develop a comprehensive experiential and wayfinding graphics program for the site and exterior of The John Cooper School. This included identification, direction and regulatory graphics for both pedestrian and vehicular traffic.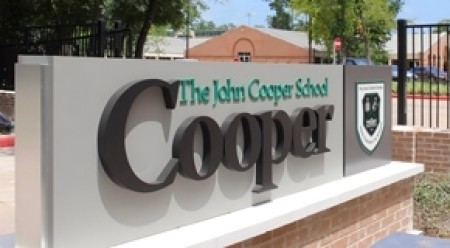 The John Cooper School is an independent, non-sectarian, co-educational, college preparatory day school in The Woodlands, Texas. FMG completely renovated their existing exterior wayfinding and identification.
Read More
.