Bon Secours Health System Inc. is a not-for-profit Catholic faith-based Healthcare system with facilities in seven (7) Mid-Atlantic states, including numerous hospitals, medical offices, nursing homes and accessory medical facilities.
The Sisters of Bon Secours was founded on January 24, 1824, amidst the devastation following the French Revolution, 12 women came together to form the congregation of the Sisters of Bon Secours, French for "good help." In 1881, the congregation was invited to the Archdiocese of Baltimore and crossed the Atlantic to establish a health care ministry in Baltimore, Maryland. By 1909, convents were established in Washington, D.C. and in Detroit, Michigan. The Sisters of Bon Secours provided the world's first recorded formal home health care service as well as the first daycare facility in Baltimore in 1907 to help working mothers whose only alternative was to place their children in orphanages. St. Edmond's Home for Crippled Children, established in 1916, was the first Catholic home for the physically challenged. The Sisters have a long tradition of willingness to take risks in pursuit of innovation, growth and extension of their mission. The Sisters of Bon Secours established their first hospital in Baltimore in 1919 and opened their second, in Grosse Pointe, Michigan, in 1945. By 1980, the Sisters had established and/or managed several Catholic hospitals, long-term care facilities and other healthcare services.
The Bon Secours Health System was formed in 1983 to provide skilled, unified management and professional resources for all Bon Secours health care operations while preserving Jesus' healing mission and Bon Secours' tradition of providing quality care to all, especially the poor, sick and dying.
In 2018, Bon Secours Health System merged with Mercy Health to form Bon Secours Mercy Health, which has continued to grow and expand with new locations throughout the US and Ireland. It is now the fifth-largest Catholic healthcare ministry in the US and one of the nation's 20 largest healthcare systems.
The primary and secondary facilities within the health system, that needed exterior and interior placemaking, environmental graphics and wayfinding included: Bon Secours Richmond Health System, Bon Secours Hampton Roads, Bon Secours Kentucky Health System, Inc., Bon Secours Baltimore Health System, Bon Secours Florida (St. Petersburg), and Bon Secours St. Francis Health System (South Carolina).
Sign fabrication contracted with Poblocki Sign Company, Bon Secours logo design by Fredlund & Company, LLC.
FMG Design developed a comprehensive experiential and wayfinding graphics program for the various sites, both exterior and interior, of Bon Secours Health System across five states (Maryland, Virginia, Kentucky, South Carolina and Florida). To find out more about Bon Secours, visit the Bon Secours Health System Case Study.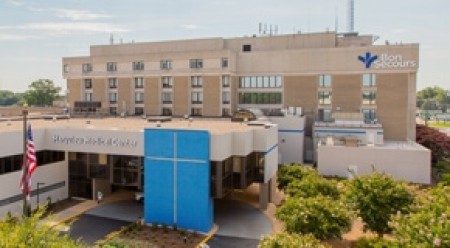 Across five US states, FMG developed experiential and wayfinding graphics for Bon Secours Health System.
Read More
.