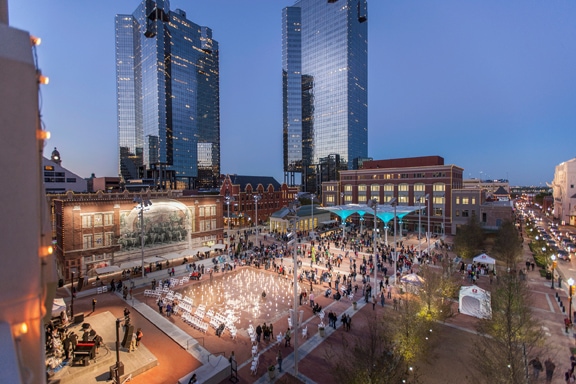 It has been a long time coming, but the new heart of Fort Worth's Sundance Square is finally a reality. Local leaders officially opened the Sundance Square Plaza. The plaza is located between Third and Fourth Streets along Main Street, which is now permanently closed for the plaza. It took 18 months of construction to turn two parking lots and the street into two new buildings and the pedestrian friendly walkway.
Sundance developer Ed Bass says the plaza has been in the making for 25 years and on Friday the fountains and four 40-by-40-foot umbrellas made their official debut. Sundance Square President and CEO Johnny Campbell says they completed construction just under the wire. Campbell says just a few days he had his doubts, but crews worked late night and early mornings to finish the job early Friday. The two buildings are still under construction inside for tenants.
"When we began to see the people last night, looking as the lights would change colors and the sound would come and the fountains would move, it was literally stopping traffic as people would jump out and take a photo," Campbell said. "And that's what we were really hoping for."
The plaza features moving fountains as well as another water feature and will be home to many outdoor events, including the Sundance Square Christmas Tree which will be lit in just three weeks.
Sundance Square has always been the heart of downtown Fort Worth and the completion of the plaza just highlights how great the downtown area is, says Mayor Betsy Price.
"Our downtown is one of the best in the nation, of course I think it's the very best in the nation, I think this makes it even better," Price said. "It gives us that European piazza type feel."
Bass said during the ceremony that this work does not conclude the Sundance Square development, saying he hopes to see a boutique hotel, more parking, townhomes and a park in the future.
He says a city is never finished and must continue to improve, but everyone at the grand opening was excited for the finished product on the plaza.
FMG Design, working with Sundance Square and David M. Schwarz Architects, developed an environmental graphics masterplan for Sundance Square Central Plaza and the Cassidy and Jett Buildings.