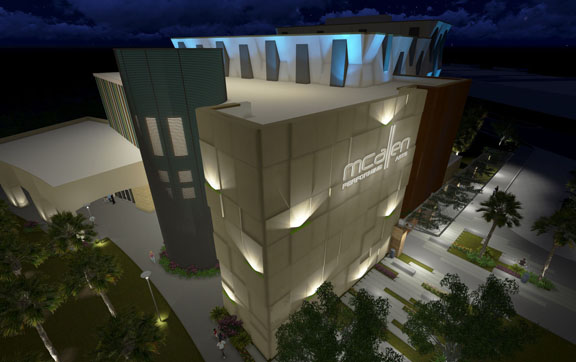 McALLEN – ERO Architects has been selected by the McAllen City Commission to design the city's new performing arts center. The project may cost upwards of $40 million and will be built southeast of the existing McAllen Convention Center.
"This is an honor to be selected and design an iconic facility. ERO and my family are part of the McAllen community and we believe a new performing arts center will continue to position McAllen as a premier destination city in Texas," said ERO Architects CEO, Eli R. Ochoa, PE, AIA. "We plan to work diligently and closely with the city and the arts community to assess their needs while at the same time respecting the budget and the culture of McAllen."
ERO Architects was chosen over 22 other applicants. They were the only architect-of-record from the McAllen area and the only architecture firm that has designed11 performing arts centers in South Texas. In 2010, ERO built three of Edinburg Consolidated Independent School District's performing arts centers simultaneously and assisted the district with securing its financing.
For this project, Ochoa has partnered with New York-based Holzman Moss Bottino Architecture. A perfect complement to the team, Holzman Moss Bottino Architecture is a national firm known for designing innovative, state-of-the art performing arts centers. With 115 performing arts facilities under its belt and five Broadway theaters, including the renovation of Radio City Music Hall, Holzman Moss Bottino Architecture's talent and expertise will add great value to the new performing arts center.
"We are excited to see the benefits of this partnership and believe we bring the right capabilities and experience to create an extraordinary multi-use facility for the City of McAllen-one the community can be proud of," said Douglas Moss, AIA, LEED AP, Partner of Holzman Moss Bottino Architecture.
ERO Architects specializes in the architectural design of education and government facilities. Awarded the Business of the Year by the State of Texas, McAllen and Austin Chamber of Commerce, ERO combines experience, innovation, and collaboration to each design project in order to reflect and enhance the needs of communities; exceeding expectations and always delivering on time and on budget. ERO Architects formulates a development framework that incorporates the social, cultural, economic and ecological infrastructure to design unique and beautiful spaces that afford opportunities for positive experience and sustainable prosperity. With a portfolio of designing over 170 facilities, ERO is a leading architectural firm in South Texas.
FMG Design has been commissioned to develop a comprehensive program of environmental graphics for the Performing Arts Center. FMG, in previous years, had designed a comprehensive graphics program for the adjacent McAllen Convention Center.