Downtown's new free bus service, Greenlink, rolled out Monday, June 11. Through a partnership between the Downtown District, BG Group and Houston First Corporation, the downtown community can utilize the environmentally friendly buses to get them to popular downtown locations quickly.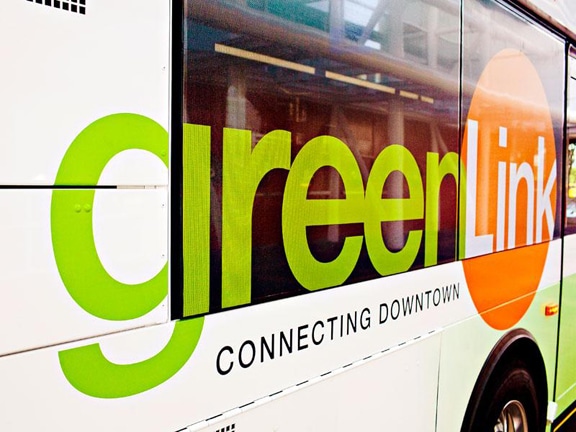 [as reported by Lauren Covington with Plugged In – Houston Downtown District] Seven buses will operate Monday through Friday, 6:30 a.m. to 6:30 p.m., every 7-10 minutes. The route spans 2.5 miles with approximately 18 stops and will connect major office buildings along Smith and Louisiana streets to METRO transit, the convention corridor, hotels, restaurants, shopping and entertainment. See the map here.
What a great way to get out of the heat during these hot summer months! Greenlink is the perfect connection between you and your next meeting, downtown errands, or a great lunch spot that's been a little out-of-reach from your work place. Popular downtown destinations along the route include the Main Street Square, Discovery Green, Macy's, Houston Pavilions, Phoenicia Specialty Foods, The Shops at Houston Center, George R. Brown Convention Center, City Hall and the Central Library.
WHAT'S IT ALL ABOUT?
The buses run on Compressed Natural Gas (CNG), making them a cleaner transportation alternative, producing less emissions and waste than other comparable buses. Plus, CNG-powered vehicles have lower maintenance cost when compared to fossil-fueled vehicles. Features of the buses include a streamlined, modern design, low-floor access, perimeter seating, high-quality air conditioning, 28-seat capacity and are ADA compliant. And for all you bike-riders out there, each bus is equipped with a bike rack for your convenience.
GreenLink is operated by METRO through an interlocal agreement with the Downtown District.
What are you waiting for? Time to go GreenLink!
FMG developed the GreenLink logo, graphics standards, bus graphics and route signs.