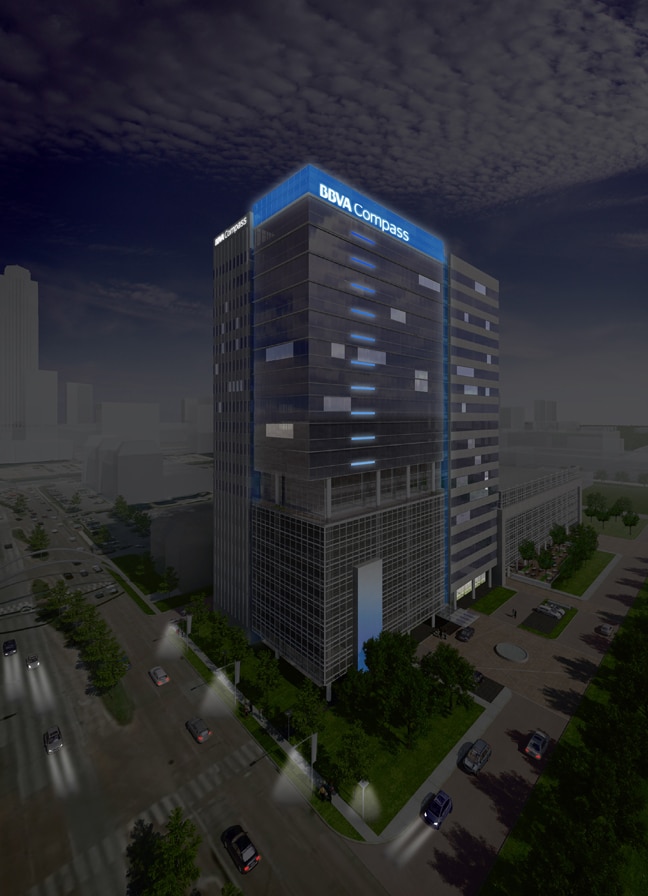 2200 Post Oak
BBVA Compass last week announced plans for the construction of a new eco-efficient corporate office building in Houston located at 2200 Post Oak Blvd. Ground will break in May, with expected occupancy in the first quarter of 2013.
The new BBVA Compass corporate office building is designed to meet all LEED gold standard requirements, the second highest certification in the rating system. The new facility will allow BBVA Compass to centralize operations that are currently spread across four different offices throughout the Greater Houston area.
Redstone Real Estate will develop the project. Manhattan Construction has been brought on to manage the overall build, with work on the project to begin immediately.
The 380,000 square-foot Houston building, of which BBVA Compass will occupy approximately 150,000 square feet, will unite the bank's local executives, multiple business areas and staff units under a single roof.
The four-acre site's former seven-story, 123,000 square-foot building was imploded during the early morning hours of March 15, 2009, as hundreds watched from adjacent parking lots and nearby buildings.
In addition to the corporate office building, BBVA Compass will also be relocating its Op and Tech center located in Port West to a new facility that is being renovated to meet LEED gold interior certification.
"Combining our corporate offices into centralized locations in key markets such as Houston, Dallas and Birmingham is a natural evolution in the integration of our U.S. banking franchise," said Manolo Sánchez, BBVA U.S. Country Manager and President and CEO of BBVA Compass. "In addition to the eco-friendly design and state-of-the-art technology of the new building, bringing together our employees into a single location will foster a more open communication channel and sharing of ideas amongst our team."
The move is designed to streamline BBVA Compass' widely dispersed real estate facilities established in 2009 when BBVA combined its four U.S. subsidiaries — Compass Bank, State National Bank, Texas State Bank and LNB (formerly Laredo National Bank) — under the BBVA Compass banner.
Leadership in Energy & Environmental Design (LEED) is an internationally recognized green building certification system, providing third-party verification that a building or community was designed and built using strategies intended to improve performance in metrics such as energy savings, water efficiency, CO2 emissions reduction, improved indoor environmental quality, and stewardship of resources and sensitivity to their impacts. Developed by the U.S. Green Building Council (USGBC), LEED is intended to provide building owners and operators a concise framework for identifying and implementing practical and measurable green building design, construction, operations and maintenance solutions.
ABOUT BBVA COMPASS
BBVA Compass is a Sunbelt-based financial institution that operates more than 716 branches including 380 in Texas, 93 in Alabama, 65 in California, 77 in Arizona, 45 in Florida, 36 in Colorado and 20 in New Mexico. BBVA Compass ranks among the top 20 largest U.S. commercial banks based on deposit market share. For more information about BBVA Compass go to www.bbvacompass.com.