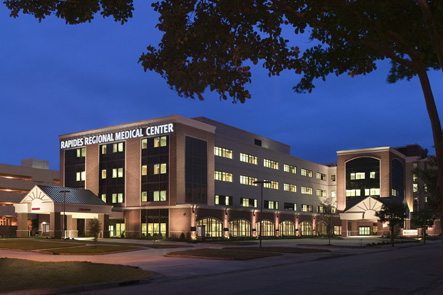 FMG has been retained to assess, design and develop a campus-wide placemaking, environmental graphics and wayfinding program for Rapides Regional Medical Center in Alexandria, Louisiana. The studio will also be developing a new logo and brand identity program for the health system.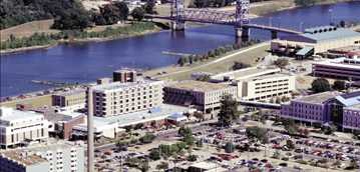 Founded in 1903 at the corner of Second and Lee streets in Alexandria, Louisiana, Rapides Regional Medical Center represents a proud heritage of compassionate healthcare services coupled with the most advanced technology of the day.
With a continued emphasis on progressive care, Rapides Regional has grown to meet the continually changing needs of our patients and the rapidly advancing technology of modern healthcare. Located in downtown Alexandria and easily accessible from Interstate 49, Rapides Regional is licensed for 320 beds and fully accredited by The Joint Commission. The hospital participates in the Medicare, Medicaid and Champus programs as well as a number of commercial insurance and managed care programs.
Rapides Regional offers a wide array of services including general medicine, general surgery, cardiovascular surgery, bypass surgery, cardiac rehabilitation, neurology, neurosurgery, intensive care and telemetry, oncology services, obstetrics and gynecology, orthopaedic services, physical therapy, skilled nursing services, respiratory therapy, lithotripsy and various outpatient services. The medical staff includes physicians in more than 30 medical specialties.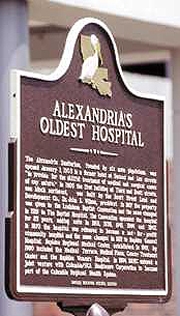 Rapides Regional set a shining example by becoming a three-time winner of the Louisiana Quality Award. This award honors businesses and organizations that are leaders in the pursuit of quality and service. Rapides Regional was also honored by being named one of the nation's "100 Top Hospitals – Benchmarks for Success." The annual study lists hospitals based on quality, operations and financial management. In addition, we operate the area's only  Certified Stroke Center, offering comprehensive stroke care from the minute a patient walks through our door to the time they go home. Plus we are the only accredited, Cycle III Chest Pain Center in Central Louisiana.
In 1993, the operating assets and name of Rapides Regional Medical Center were sold to Central Louisiana Healthcare Systems Partnership. Then, in 1998, the joint venture restructured to a limited liability corporation – Rapides Healthcare System. Today, HCA continues to own a 74% interest and Rapides Foundation owns a 26% interest in the Rapides Healthcare System. The RHS board is represented by an equal third representation of HCA appointees, physicians and Rapides Foundation appointees.