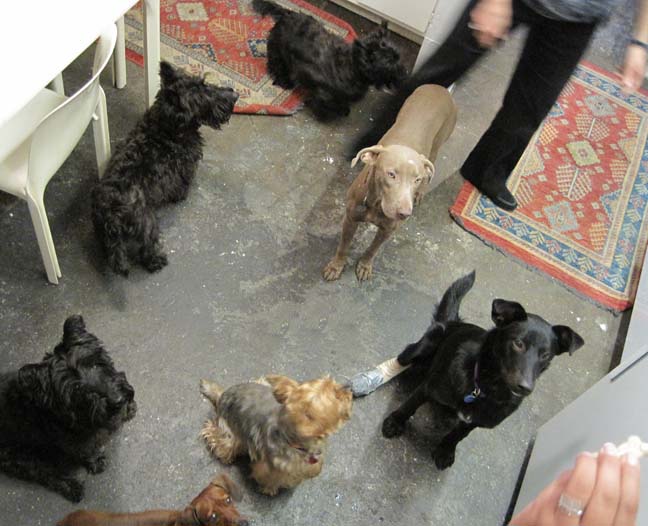 From bottom left…clockwise

Buster (weinerdog)
Buster is a somewhat new addition. A rescue dog from Ferdinand's daughter and grandchildren who were moving into a condo with pet restrictions. Buster is a miniature Dachshund who has no idea how little he is. He is our big-man-on-campus. Buster is a fierce protector, barker and ball chaser. He loves tennis balls! The record is 129 times tossing and retrieving a ball. He didn't tire, we did! Buster does not like squirrels and loves to run laps around the field.
Mac (scottie)

RIP
Mac is the largest of the three (3) Scottish Terriers and has his own distinct personality. Officially Mary's dog, Mac runs with the pack. He is very protective of his toys and does not like to share. Supper cuddly but certainly independent and head-strong. A typical Scottie. When he goes on a walk downtown, he takes YOU for a walk. He definitely knows his routes and what he wants to do. Mac also doesn't like motorcycles or bicycles. After a long struggle, Mac has joined Murphee and Yogi. He will forever be in our hearts.
Murphee (scottie)

RIP
Murphee is another male Scottish Terrier that crawled out of his litter and walked straight to Ferdinand. Purchased from a breeder (along with Mac and Maggee), Murphee, or Murph, as we affectionately call him, is a ladies man. He loves the women in the office and in the family. He is sweet, lovable and just full of energy and surprises. He most resembled Magee who was our first Scottie. Magee was a legend. Best dog ever. Murph gets framed by Maggee alot and gladly takes the blame until the real culprit is determined. Murphee has moved on to that great field of bones and squirrels. We miss him terribly. 
Maggee (scottie)
Here is the trouble-maker of the three (3) Scotties. Maggee is mischievous, playful and rambunctious. When you take the three (3) Scotties for a walk, Maggee gets one hand dedicated to her leash. She runs back and forth so much we call her Zipper. She does not like cats, rats, squirrels or any other critters on her turf. She will sit under a tree for hours just daring that squirrel to make a move.
Coco (weimie)
Coco is a Weimaraner who is simply the most loyal and protective dog possible, which is typical of Weimies. Coco was dumped in the country and latched on to Ferdinand during mile 1.5 of a 15 mile Sunday morning run. Ferdinand promised her a meal at mile 8 since she still stuck by his side. Dirty and skinny, she is now the most exotic, beautiful dog. She runs daily with Ferdinand when he is in town and never tires. Lightening fast, but sweet, she gets all of the attention during downtown walks. She has great, exotic yellow eyes. Ferdinand has also taken her on business trips.
Sadie (pack leader)
Sadie is also a rescue dog who attached to Ferdinand during a run out in the country. She was a pup that someone just abandoned. A mix of a Border Collie and Shepherd, Sadie had a hard time at first adjusting to the pack but has finally come around and is now the Alpha dog. She is independent and goes on long journeys in the woods and brings back bones. She loves to run and play with Coco. She has a bandage in the photo from when she got loose from her leash downtown and was hit by a car. She is sweet and just adored by Gracen.
Yogi (silky)

RIP
Little Yogi is a Silky Terrier that was rescued by Mary (with a little persuasion by Leslie). A little older than the rest, Yogi is adorable and looks like a little Star Wars character. Expressive, lovable and playful. Sometimes he gets a little overwhelmed by all of the other dogs but he is doing just fine. He has the silkiest coat of hair possible and is as cute as a button. Often confused with a stuffed animal. As can be expected from a Terrier, he does not like squirrels either and tries to catch them when he can. Although Yogi is no longer with us, he is greatly missed. 

Cooper (Great Pyranees)
Meet Cooper, AKA Big Boy. Coop is a Great Pyrenees that 'appeared' at Ferdinand and Elizabeth's country house a few months back. He loves hanging out with Sadie. Cooper is huge and after spending the holidays with his new family, decided to not go home. The owners were found a mile or so away, and they said they were moving to Kentucky and would we adopt him? Case closed.

Remington (Remi)
Remi is a blur. Sometimes ears down when she thinks she is in trouble or ears up and pointed when playful. She is a rescued Red Healer and mischief as can be. Tears up dolls, paper, leather, shoes and boots. Can jump and run fast. The previous owner threw her out of their car window with a can of dog food and sped away. Elizabeth was behind and saw the whole event. Remi is now part of our family and we love her to death.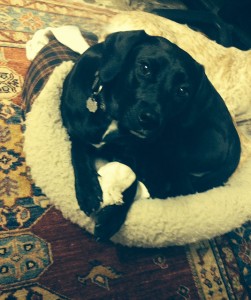 Delilah (LaLa)
Lollie or LaLa acts just as her name sounds. Not a care in the world except to have fun and play…and be 'Alpha' dog with Sadie which causes problems sometimes. Another rescue, she is part Black Lab and part Black Mouth Cur. Cute as a button with a rope tail that can whip you raw. We also call her wiggle butt. She is possibly the hardest dog to pick up because she is so fluid and awkward. Kind of like a slippery wet seal.

Sandy
 Sandy is another rescue that became an addition to the dog pack. She is officially Ryan's dog. Although she is very friendly and playful, she is a fierce protector. Beware clients!